• capsule wardrobe • travel outfits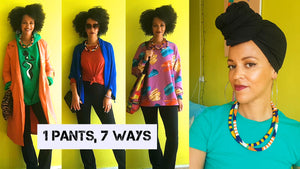 Capsule Wardrobe: Flared Pants Flared pants combine style and comfort in one piece. It's versatile and can be worn in many different settings yet it feels as comfortable as your favorite pair of leggings.  Did you ever think you could wear flared pants as a headwrap?  That's why flared pants are an amazing wardrobe must-have for Fall and other seasons. Dress it up or down and from your crown all the way down ;-)  If you need some inspiration on how to style your flared pants check out this Styling Lookbook video below  How To Style Flared Pants Shop The...
---
Self Care for Body, Mind & Soul My self care routines have become sacred rituals for optimal body, mind & soul wellness. It helps me regulate my nervous system, boosts my self love & respect plus it gives me the opportunity for an authentic connection with myself. I never thought self care routines that are simple could have such a beautiful effect on my overal wellbeing but it has. That's why I want to share some spa day must-haves so you can treat yourself to some TLC. Dress Joycy Pamper yourself like a queen on your Self Care Sunday routine...
---
• capsule wardrobe • travel outfits
Zürich Travel Outfit Ideas Travelling to Zürich and wondering what to wear in one of Europe's great walking cities? Zürich is an urban city that is not only Switzerland's biggest city but also named the best city to live for expats in 2019. Although the city is known as the financial capital of the country, let that idea slide and focus on all the beautiful sites and hotspots this place has to offer. And since it's a great city to walk around, better do it in style by packing and wearing clothes that are functional, stylish and versatile. Check my must-have items for...
---
• easy healthy food ideas • food medicine
What are the health benefits of Sweet Potato? Sweet potatoes have many health benefits such as.... High in antioxidants High in vitamin A which is essential to beautiful, glowing skin Boosts immune system Stabilizes blood glucose levels  Maintains collagen Great for gut health Turmeric Sweet Potato & Zucchini Soup for Beautiful Skin Eating for beautiful skin doesn't have to be tasteless or boring as these easy, healthy recipes are super tasty and will help you radiate beauty from the inside out. Ingredients- Coconut Milk - Turmeric - Zucchini - Leek - Sweet Potato - Kale - Salt & Pepper -...
---
• capsule wardrobe • travel outfits