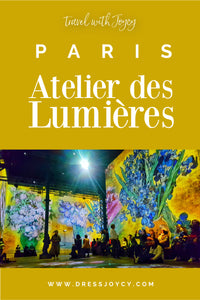 Immersive Art Exhibition in Paris Joycy Paixão Fortes Ancestral fashion artiste with a flair for colorful and unique travel style. When art meets technology magic happens! At Atelier des Lumières you'll experience an immersive exhibit and currently you can see the works of Van Gogh and Japanese Art until January 5th. And there are even nights where the Atelier des Lumières is open until 22h so go at night so have an inspiring night out. SAVE time & Get Your Ticket Online If you go to the Atelier des Lumières you have no guarantees of getting a ticket so save yourself...
---
• art
What Do Banksy & Sefyu Have in Common? 6 Things You Didn't Expect! After a break of almost 8 years the legendary artist Sefyu made his comeback with the release of his latest album Yusef.  You can buy it here. His first three albums put him on the map in Europe and he was the first or one of the first urban artists to win a Victoire de la Musique (French Grammy).  Who is Sefyu? Sefyu was one of the first artists that made me stop, pause and listen to his lyrics (back then you couldn't google them lol). The...
---
• art • capsule wardrobe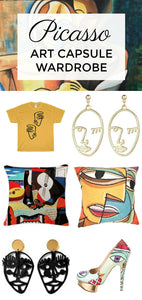 Picasso Wearable ART for Fashion & Home Combine your love for fashion & art in Paris starting September 4 at the « Picasso. Chefs-d'œuvre ! » exhibition. If Paris is known as the capital of fashion it's also the place to be for a great art exhibit. The « Picasso. Chefs-d'œuvre ! » will feature Pablo Picasso's masterpieces and exclusive works never shown to the public before. Thanks to exceptional loans, the masterpieces from all over the world will reunite and inspire you at the Musée national Picasso-Paris. Picasso Fashion & Home Decor Dress the pART and wear a Picasso...
---
• art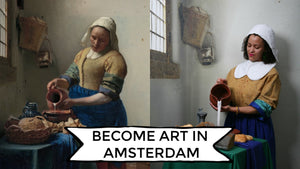 Become Vermeer's Milk Maid in Amsterdam #googlearts Once upon a time only the aristocrats had their portraits painted and now thanks to Museumfoto you can become the art you see in Amsterdam. In just 10 min you can become a Dutch masterpiece and have an incredible souvenir of your visit. If you're looking for a fun experience in Amsterdam, stop by Museumfoto. a company run by Peter and Brit. Britt makes the amazing costumes and Peter sets up the stage to take your picture and transform you into art. There are several iconic Dutch paintings you can choose from for...