• capsule wardrobe • travel outfits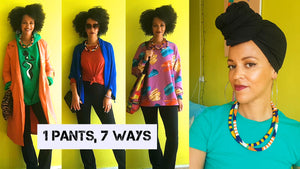 Capsule Wardrobe: Flared Pants Flared pants combine style and comfort in one piece. It's versatile and can be worn in many different settings yet it feels as comfortable as your favorite pair of leggings.  Did you ever think you could wear flared pants as a headwrap?  That's why flared pants are an amazing wardrobe must-have for Fall and other seasons. Dress it up or down and from your crown all the way down ;-)  If you need some inspiration on how to style your flared pants check out this Styling Lookbook video below  How To Style Flared Pants Shop The...
---
• capsule wardrobe • travel outfits
Zürich Travel Outfit Ideas Travelling to Zürich and wondering what to wear in one of Europe's great walking cities? Zürich is an urban city that is not only Switzerland's biggest city but also named the best city to live for expats in 2019. Although the city is known as the financial capital of the country, let that idea slide and focus on all the beautiful sites and hotspots this place has to offer. And since it's a great city to walk around, better do it in style by packing and wearing clothes that are functional, stylish and versatile. Check my must-have items for...
---
• capsule wardrobe • travel outfits
---
• capsule wardrobe • travel outfits
---
• capsule wardrobe • travel outfits
10 Pieces, 26 Summer Outfits Ideas Joycy Paixão Fortes Ancestral fashion artiste with a flair for colorful and unique travel style. Summer is in full bloom so the perfect time to create a Summer Capsule Wardrobe. With only 10 pieces I will show you 26 colorful Summer outfit ideas that are versatile, casual and chic and perfect for packing light if you're travelling this season.  Ever stood in front of your closet wondering what to wear? I had that so often until I decided to focus and create a capsule wardrobe so I knew what I was working with but also...